Marquee
Times
Square
NYC,1.5
million
visitors
daily,
7
stories,22ft
high,one
of
largest
signs
in
world,"
21st
Global
Artemis
Award
Ceremony-Greece"
l
to
r
Elena
Kountoura,Loula
Loi
Alafoyiannis,Daisy
Gallagher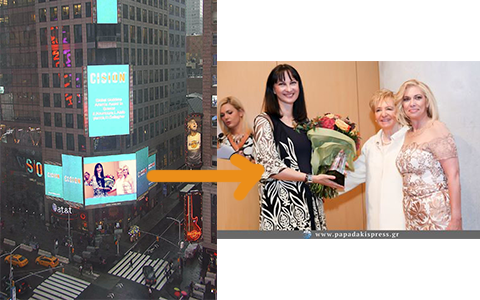 Greece: 21st Annual Global Goddess Artemis Award Ceremony – Ms. Elena Kountoura – Minister of Tourism of the Hellenic Republic Good will ambassador of social volunteering and president of the organization EUROPA DONNA GREECE, Ms. Loula Loi Alafoyiannis – Founder – CEO and President of EAWC, Ms. Daisy Gallagher – President and CEO of Gallagher & Gallagher Worldwide
October 22, 2017
For Immediate Release:
The Honorable Elena Kountoura Minister of Tourism of the Hellenic Republic hosts The 21st Global Goddess Artemis Award Symposium & Ceremony in Athens, Greece – Honorees Include Distinguished Leaders from the United States
 The Global Goddess Artemis Award is presented to notable women and men leaders from around the globe for their distinguished achievements in the fields of business, politics, academia and the arts. The end goal of this unique experience is the development of solid alliances and new prospects for all participants.
(Washington DC/Athens, Greece) Distinguished Leaders from across the globe were recognized at the 21st Global Goddess Artemis Award Ceremony held at the Acropolis Museum in Athens, Greece.  The program was under the auspice of and hosted by the Honorable Elena Kountoura, Minister of Tourism of the Hellenic Republic.  Distinguished leaders in business, academia, philanthropy, and the arts from across the globe were in attendance.
The Honorable U. S. Congresswoman Carolyn Maloney stated in her video address, "I congratulate all Honorees, I also congratulate the Founder, CEO and President of EAWC, Loula Loi Alafoyiannis." The Congresswoman is founder and co-chair of the Hellenic Caucus, one of the largest caucuses in U.S. Congress. "The goal (of the Caucus) is to increase the friendship and cooperation of these two great countries," she said.
The Honorable Elena Kountoura, stated, "On this occasion I would like, first of all, to applaud Loula Loi Alafoyiannis and all of the EAWC's spectacular work for more than two decades in the field of strengthening the status of women in leadership positions. This program held in Greece provides a unique opportunity for prominent leaders and prestigious personalities to interconnect and exchange thoughts and ideas on how to move forward on a national and international level and to become partakers of the Greek Spirit and culture."
 The Honorees from the United States are,
 Ms. Daisy Gallagher, CEO of Gallagher & Gallagher Worldwide, Inc., co-founder of SUSTAP LLC, board advisor for several enterprises, senior advisor to Washington DC Archangels investors group, serial entrepreneur, chief strategist, multi-award winning business person, mentor and advocate for women in power, author, two decades plus of community and business leadership was recognized for global business and entrepreneurship. She resides in the Northeast, with offices in Washington DC, Pennsylvania and New York City
Dr. Terry Neese, founder and CEO of the Institute for Economic Empowerment of Women, entrepreneur, public policy strategist, women's equality advocate, and award-winning small business owner. Dr. Neese, resides in Oklahoma, has created several non-profit organizations and businesses, she has spent time in Afghanistan mentoring the women there and advocating for their right to equality.  Dr. Neese was recognized for her commitment to increasing women's roles in business ownership and shaping public policy.
Ms. Victoria Woods, CEO of ChappelWood Financial Services in Edmond was also recognized for her work in supporting, impacting and empowering women as a wealth management leader. She serves as the Finance Chair for the Oklahoma Commission on the Status of Women and hosts events to raise funds for a variety of charitable organizations.
Complete list of Honorees of this prestigious award from United States, Greece and around the world are:
MIKIS THEODORAKIS
Renowned songwriter, composer, politician and activist
The Greek of the World
HONORABLE CAROLYN B. MALONEY
US Congresswoman (D-NY)
The "Bouboulina" of the Greek Americans & Cypriot Americans
HONORABLE ELENA KOUNTOURA
Minister of Tourism of the Hellenic Republic
Goodwill Ambassador of Social Volunteering
President of Organization, EUROPA DONNA GREECE
Father ANTONIOS PAPANIKOLAOU
Pioneer of The Ark of the World (Kivotos tou Kosmou)
Provider of care and protection for mothers and children
KATERINA PANAGOPOULOS
Executive Global National Ambassador of Greece to
The Council of Europe for Sports,
Citizen of Europe for Year 2017
The fearless and daring woman with a can-do attitude & extraordinary achievements
MAURO SERRA
Executive President of A.S. STAR TEAM FOR THE CHILDREN MC
The person with exceptional love and passion for children in need
DR. FOTINI A. POMONI
Professor, University of Athens and
Doctor Honoris Causa of the University Liceo Cervantino of Irapuato, Mexico
Visionary promoter of bilateral educational and scientific relationships
DAISY GALLAGHER
 CEO of Gallagher & Gallagher Worldwide, Inc.
Global Business Person and Entrepreneur of the Century
DR. TERRY NEESE
Founder of the Institute for Economic Empowerment of Women
Her thirst to help Rwandan and Afghani women to receive a degree in Business Administration
SUN XIAN
Awarded Film Director
His passion and love promoting Greece worldwide
MARIA LOIZIDOU
Professor, National Technical University of Athens
Honored by the European Union
For her contribution to environmental issues related to desalination
DELLA ROUNICK
The famous Greek American sculptor
A distinguish Greek American philanthropist and artist
VICTORIA WOODS
Founder, CEO and Chief Investment Advisor
For ChappelWood Financial Services
Champion for Women and Wealth Management Leader
NIKOLETTA TSITSANOUDIS-MALLIDIS
Associate Professor, University of Ioannina & Harvard University
The academician who connected media with Greek language and culture
NATASSA N. SPAGADOROU
Editor-in-Chief of the medical and scientific website "onMed"
Outstanding contributions to the world of print and online media
TASSOS KOROSSIS
Créateur de la mode
Athens – Paris – New York
For bringing the Hellenic Spirit and his creativity to celebrities around the world
VALAVANIS LASKARIS
High Fashion designer
The distinguished Greek fashion ambassador
ANTHOULA ANAKEFALOU
Public Relations Advisor at Greek Public Relations Company,
Journalist in Greece and Abroad
For her contribution to the humanity
WANG FEN-QIN
Innovative Artist
The woman who empowers people to create their own unique life path
XIE JING
Chairman of HUAJING Group Corporation
Successful young woman entrepreneur in Asia, Europe and USA
SUN QI
President TAIE Homelike Life Hall in Chengdu, China
The woman who created a life experience Museum by merging tradition and technology 
  ANNA BILLIS
Business Owner and Entrepreneur of the Year USA
 SCOTT LIU
Executive Associate Dean of Global Programs,
Director of the Centre International Business Studies in New York Institute of Technology
Creator of an acclaimed MBA Executive Program that emphasizes experiential learning
The Honorees and Guests were part of an 8 day cultural program, visiting the gorgeous Island of Mykonos, enjoying the luxurious five star Royal Myconian Resort & Villas. Festivities hosted by The Honorable Kostas Koukas, Mayor of Mykonos who met with them and attended celebrations at Nice and Easy Restaurant.  Afterward the trip continued in Athens, distinguished honorees and guests enjoyed the luxury of the five star Hotel St. George Lycabettus Lifestyle Boutique Hotel.  They toured historic landmarks, including the Acropolis and Temple of Poseidon.  Special visits were held with The Honorable Elena Koutoura, Minister of Tourism of the Hellenic Republic, The Honorable George Patoulis, Mayor of Amaroussion City and President Central Union of Municipalities of Greece and a visit to the Greek Parliament.
 Loula Loi Alafoyiannis, EAWC, Founder & Executive Global President, and organizer of the 21st Annual Global Artemis Award ceremony, thanked the Honorable U.S. Congresswoman Maloney for her support and long stance commitment to public service, thanked The Honorable Elena Kountoura for her support and also praised her for her commitment to public service.  She acknowledged The Honorable Katerina P. Panagopoulos, National Ambassador of Greece to the Council of Europe for Sports, Tolerance and Fair Play, Citizen of Europe 2017.  She gave a special acknowledgement to the EAWC Board. Loula acknowledged Dignitaries, VIPs, Hosts and Honored Guests in the audience and those whose support helped to make the 21st Annual Global Goddess Artemis program possible. Biographies of Honorees, media wall from the program, and supporters' acknowledgements may be found at www.eawc.org.
Gallagher & Gallagher Worldwide, Inc on behalf of EAWC
Global Media Contact:
SOURCE: www.gallagherworldwide.com