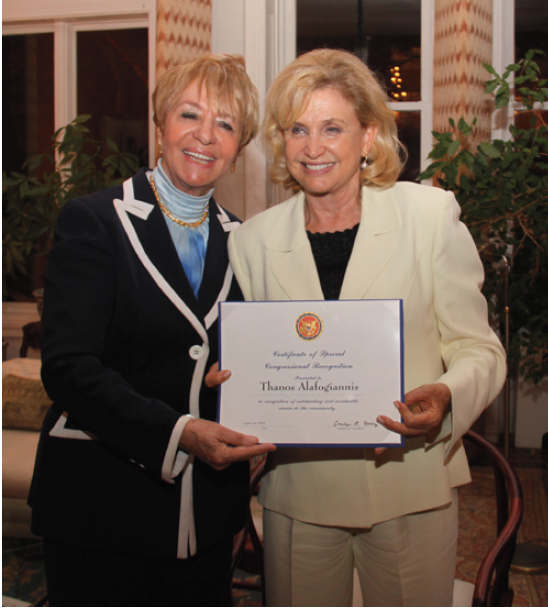 Washington, DC, January 13, 2013 –(PR.com)– The Global Business Forum and Innovation Recognitions were held Thursday, November 15, 2012 at the U.S. Capitol's Cannon Building. The 16th Annual Artemis Awards Ceremony took place the previous evening on Wednesday, November 14, 2012. The ceremony was held at the Rayburn Building with an audience of distinguished leaders and celebrities from the United States and across the globe in attendance. The programs were hosted by Congresswoman Carolyn Maloney, 14th District NY and Ms. Loula Loi Alafoyiannis, EAWC Founder & Executive Global President. The programs were moderated by Ms. Gina Slater, Co-Founder Black Women's Enterprise and Ms. Daisy Gallagher, CEO/Chief Global Strategy Officer, Gallagher & Gallagher Worldwide, Inc.
Ms. Loula Loi Alafoyiannis began the program by introducing the Congresswoman, "Carolyn B. Maloney is recognized as a national leader with extensive accomplishments on financial services, national security, the economy and women's issues," she said. In her speech Congresswoman Maloney praised EAWC and its founder Loula Loi Alayfoyannis and stated; "This is a wonderful event that brings business and cultural leaders from around the world and I am delighted to host it for the second year. Loula and EAWC have brought together an extraordinary group of individuals who have broken ground and made a difference in their respective fields."
The impressive list of distinguished guests, speakers, Honorees of the EAWC prestigious Goddess Artemis Award and the Global Business Forum Leadership in Innovation Award, included; The Honorable United States Congressman, Mr. Charles Rangel; The Honorable United States Congresswoman, Mrs. Carolyn McCarthy; The Honorable Greek Congressman, Mr. Pangiotis Kouroumplis; Mrs. Judy K. Sheppard, President & CEO Professional Services of America, Inc., Ms. Phyllis Slater, Co-Founder Black Women's Enterprise; Ms. Daisy Gallagher, CEO, Chief Global Strategy Officer Gallagher Worldwide, Inc.; Mrs. Arianna Huffington, CEO, the Huffington Post; Mrs. Stephanie Abrams, Executive Producer and Host, "Travel with Stephanie Abrams" and "Travels411"; Ms. Feng Bing, Famous Shanghai TV Actress; Ms. Yan Yan Fan, Artist; Mrs. Joanna Terharn, Artist; Mrs. Mary Crisalli Sansone, Executive Director, CIAO; Mr. Michael Stougiannos, CEO, 3doo.com; Mrs. Edie A. Fraser, CEO at STEM Connector & Senior Consultant at Diversified Search; Mrs. Shyamalee Premawardhana Tudawe, Editor-in-Chief, "Hi Magazine," Wijeya Professor Paul (Chun-Zhong) Xu, Artist; Dr. Melpo Christofidou-Solomidou, Research Associate Professor of Medicine, University of Pennsylvania Medical Center; The Honorable Ambassador & Permanent Representative of Sri Lanka to the United Nations, Dr. Palitha T. B. Kohona; Dr. Chen Changjin, President of Henxin Group, China, Ms. Zhao Jihong, President of Hongtian Housing Development Corporation, China, Mr. Michael Stougiannos, CEO, 3doo.com, Mr. Thanos Alafoyiannis, President of the Board and Managing Director, Prosvasis A.E.B.E., Mrs. Susan Horsfall, Director of Government Relations / Principal, Aegis Atlantic Holding L.L.C., Mr. Rodney P. Hunt, Innovator & CEO, Rodney P. Hunt Foundation, Ms. Ning Liang, Founder / Partner, AJS Human Resources, LTD., Ms. Despoina Moirou, Writer & Actress, Professor Song Weiguang, Chairman of the Board of Shanghai YiNai New Materials Technology Co. Ltd., China, Mr. Chuan-Xing Zhang, President of Yong Tong Cultural & Creative Development Inc., China, Mr. Thoma Kikis, Producer, Mrs. Almas Jiwani, President and CEO of United Nations Women Canada National Committee and Frontier Canada Inc., and Ms. Elli Stougiannos, EAWC's New Generation Young Leader age 10 who closed the program with her speech entitled "iKids & Robots."
For EAWC: Loula Loi Alafoyiannis – info@eawc.org
"The EAWC's mission is to strengthen the status of women in the global marketplace by building strategic alliances," Ms. Gina Slater, Co-Founder Black Women's Enterprise said, "Through EAWC women and men of diverse backgrounds and accomplishments work together to advance women's access to positions of leadership and to pave the way for the next generations of women business leaders."
The next day Ms. Daisy Gallagher welcomed the distinguished guests to the Global Business Forum and in her speech she also included praises for EAWC and its founder and touched on the Freedom which enabled her own business success story; "We are in the Cannon House Office Building completed in 1908, it is the oldest congressional office building on Capitol Hill. It is very fitting that this forum with this years' focus on Innovation takes place at the U.S. Capitol building which governs the laws that represents for us the ability to dream, create, learn and aspire to be whatever we wish to be if we work hard work, persevere and believe." She added, "It is a place where laws are made to insure we may contribute in our own way and pursue our dreams regardless of where we come from, the color of our skin, our first language, or whatever the background of our upbringing. As an immigrant myself, with my own long successful stance in business and the ability to pursue my dreams, I stand humbly here today as a testimony of that wonderful gift."
Guests were also treated to a travelling art gallery featuring the works of renowned Artists from around the world.