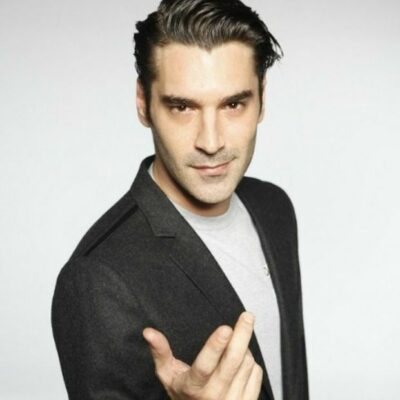 Christophoros Papakaliatis was born and raised in Athens, Greece. His father, Manuel Papakaliatis was born and raised in Crete. Villy Malamis, his mother, is South African. His parents met in London, England, where they first begun dating. Four years later they got divorced, but they already have had two children, Christophoros and Philippe. He also has two more siblings (Stefanos and Nara) from his father second marriage. Christophoros was first cast in the age of 16 for a role in the TV drama series "Guards of Ahaia". A drama series, based on a novel by Tassos Athanasiadis, which was aired in 1992 by Mega Channel (one of the biggest private TV channels in Greece). After numerous roles in successful TV series as a teen actor in Greece, he decided to write his first TV script at the age of 23. "Our life is a path" was aired on Mega channel in the season 1999-2000 and was well recognized by critics and public. The following season he wrote and starred in the TV series "Take care of me" 2000-2001, and the following season he made the TV movie "Three wishes" 2001-2002. In 2003 he wrote and starred in the TV series "Close your eyes" which was one of the highest rating series in Greece. It was at that point that he decided to direct most of second and third season episodes with great success. In the TV drama "Close your eyes" a kiss between two men caused a great debate in Greece (as it was the first time for two male characters to kiss on air) and was followed by a fine by the Greek National Council for Radio and Television but was later withdrawn by The Council of State. In 2005-2006 he wrote, directed and starred in a new dram-thriller series "Two days only", which had controversial reviews. "Two days only" was not a big success in the rating board, but was acclaimed artistically as one of the best filmed TV series. In 2008 he wrote, directed and starred in the TV series "4". A story about four male brothers and their different lives. "4" was a big success in Mega channel but due to the economical crisis in Greece was not able to continue to its second season and was cut off the air in the summer of 2010. It was the same year that he got accepted as a member of the International Academy of Television Arts and Sciences (EMMY International). In 2012, he starred next to Catherine Deneuve and Sebastian Koch in the feature film "God loves Caviar" directed by Yiannis Smaragdis. "What If" is his first feature film. The film was written and directed by him, while on the same time he played the leading role of Demetris. "What If" is a love story in Athens during the European economical crisis and is now one of the biggest Greek box office hits. The movie was a commercial success in Greece for the 2012-2013 season and remained in theaters for more than 4 months, while it received very positive reviews. In 2015, his second feature film "Worlds Apart" was released. The movie made a 5m euro grossing in the Greek box-office, was released in 25 countries and received very positive reviews from the LA Times and other publications.
He has always been the music editor in all his TV series and in charge of the music scoring and songs played in the episodes. He also was in charge of the music editing in the film "What if".
Theatre: In 1993 he made his debut in the comedy " At last alone" written by Lakis Lazopoulos which opened in City Center theatre NYC and later toured throughout Greece. In 1996-1998 he played his first leading role in 'Les Parents terribles' written by Jean Cocteau. In 1999-2000 he played the leading role in The thief written by Maria Pacome. In 2001 he played in the theatrical version of the movie Shallow Grave by John Golf. In 2007 he played "human voices" a puzzle of monologues written by Jean Cocteau. In 2011-2012 he played Volfgang Amadeus Mozart in the well-known theatrical play "Amadeus" by Peter Shaffer.
Maestro, a series written by and starring Christophoros Papakaliatis, was broadcast on Mega in 2022. Later that year, Netflix bought the rights to stream the series worldwide, making it the first Greek series to be picked up by Netflix.