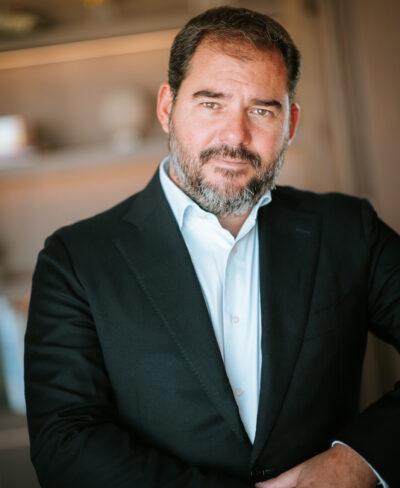 Mr Antonios Karatzis has been at the helm of Karatzis Group of Companies as Chairman and CEO since 2009, and has been a committed member of the Group for nearly three decades. In the last ten years, Mr Karatzis has introduced the Group to new geographic markets, and developed its hospitality branch by adding a new 5-star hotel, Nana Princess, to its portfolio.
Entry into the energy sector has also been achieved with his founding of Karatzis Energy SA & CO. This expansive growth has come as a direct reflection of his dedication and the exemplary abilities which he has demonstrated throughout his career, as well as his mission to preserve his family legacy and support the island of Crete.
Mr Karatzis is Chairman and CEO of ANTKAR M SA and Artemis Real SA and is Chairman of PlusPack SA and AK GRAFF SA. He is also a board member and main shareholder at MESHPACK GMBH, Croppy Solutions LTD, KARATZIS ITALIA SRL, KARATZIS RUS LTD, ZEUS AGRI PACKAGING LTD, SEMPITERNAL LTD. Additionally, he is a shareholder at KARATZIS SA & Co., Aioliki Pnoi Aposkias Single Member LTE, SPAREAL IKE, KKX MARKET IKE, and KARMYL IKE.
Mr Karatzis has studied in Hospitality Management at the Glion Institute of Higher Education and continues to broaden his knowledge through specialized seminars.