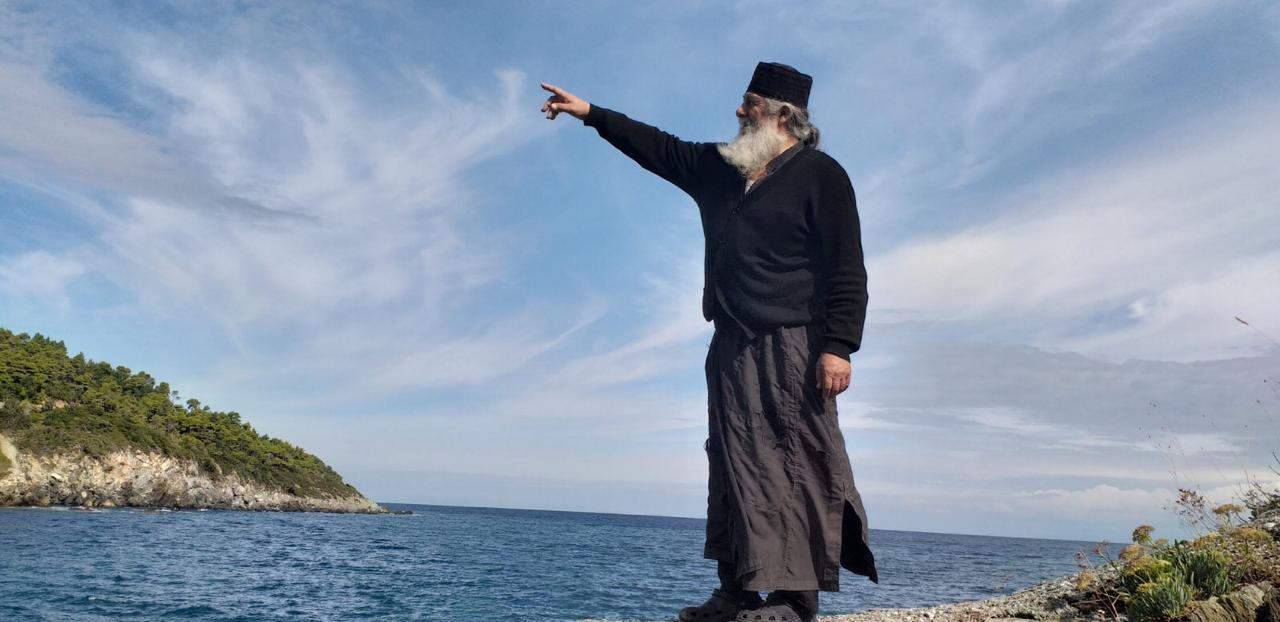 (Greece/USA) Elder George Alevras is a distinguished and charismatic hieromonk, inspired by God and the Holy Spirit, whose light, since the birth of Christ, has never stopped shining and sanctifying the place of God that so rightly bears the name "Holy Mount Athos"  It is a noteworthy feature of hesychasts to engender humility, but it is an imperative to promote the bright and true role-models and elder George's great work is a unique contribution to the benefit of mankind. It is this divine light that illuminates and guides the monks of Mount Athos, who have dedicated their lives to God. It has helped them draw strength and wisdom so that they may generously impart and offer it indiscriminately to every human being, for the greater good of all. In this manner, we are all afforded the opportunity to become partakers in the precious spiritual and moral values, gifts of the Divine Power and the Holy Spirit.
As is known, since he was an infant, Father George began to know God.  At the age of 22, upon visiting the monastery of Panagia Faneromeni, within a few short minutes into prayer, a nun who saw him called upon him and told him: "God wishes for you to become like the Apostle Paul, to become a bishop my child to save thousands of people". Of course, it was not easy at such an early age for him to evaluate and fully understand the significance of these words, which were a message from God.
One month later, he met Saint Porphyrios, who became his Spiritual Father, and led him on the monastic path, revealing to him that God wishes for him to become like the Apostle Paul, and that for him to do so, he must overcome all human influences and weaknesses and allow himself to surrender to the grace and power of God.  Of notable worth is that Saint Porphyrios blessed Father George immediately before he was committed to the hands of God.  It is evident from all these experiences, that Father George, from his youth belongs to the highly charismatic, inspired and select monks of Mount Athos, who wanted and learned to approach God, to be enlightened by the Holy Spirit, to gain strength, will, knowledge and wisdom, and a particularly compelling ability to transmit this light of truth to people and to all mankind, just as the Apostle Paul, rendering them classified in the Pantheon of Saints.
Of course, the Almighty God, for those who believe, knows those who sincerely desire and seek the light of creation for the benefit of mankind, and assigns them the vast mission of serving as the fundamental flame that illuminates the difficult and rugged road of life so that it may lead to the higher, the more sublime, real, imperishable and the eternal.  Man was created to evolve so that he may reach his destination. To reach this, one must traverse a rocky road that consists of reactionary forces that aim to thwart the path to progress and truth.
In this difficult and painful process, Father George emerges triumphant, as he draws upon his own strength and with the help of a higher power, and offers and spreads the Holy Light of truth, as Jesus Christ taught us, we should do. This divine gift of Father George to foresee and provide spiritual and mental nourishment, and assistance to those in need, comes from the same life-giving source of Divine Power, which surrounds, fills, strengthens and illuminates those who wish for, seek, and accept the promising Holy Light.