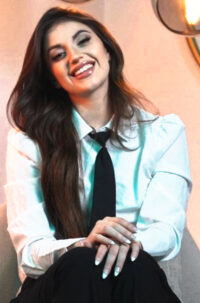 Angelina Alexon is a fresh new POP singer/songwriter that is exploding on the music scene. She possesses a 5 octave soprano vocal range and sings in 8 different languages . Her range, as well as her vocal tone and power is often compared to two of her biggest inspirations Mariah Carey & Celine Dion. She has almost 400k  following on her social media, and her music video project, "one girl 15 voices" in which she uses her amazing vocal range and vocal technique to do impressions of 15 popular artists, went  VIRAL almost immediately after releasing it with over 30 million views on social media.
Other more recent videos that have gone viral include, a comedy skit she scripted and collab'ed with social media star Markian entitled  "What it's like to have a Greek Friend " where she  showcases her acting skills, and the "1 song in 5 languages" project where she sings the pop song she solely wrote  "All We Need" in 5 languages, switching languages for each verse, in an amazing and unique 3 min VIDEO.  She was featured on many major publications/shows including Elvis Duran Show, Music Crowns , R1L , Deezer , Huff Post, Telemundo, Univision and more.
She recently moved to Las Vegas where she has been performing  regularly on the Vegas strip at Casinos including the Paris ,Bally's , Sahara, Aria , the Strat and the Golden Nugget. As noted by the press including the Las Vegas Review Journal she has been the only young female artist performing consistently on the famed Las Vegas Strip since the Vegas Reopening in August 2020. Over the past few years, she has performed throughout the US in various music festivals such as the Super Girl Pro Festival in San Diego at the Radio Disney stage , Mesa Music Festival in Arizona, The Jersey Shore Music festival, SpringBoard South Fest in Houston , the Winter Music Conference in Miami etc. She has also performed in many prestigious live music venues, such as The Cutting Room in Manhattan,   the Mint in LA, the  Smith Center in Las Vegas as well as at the iconic stage of MGM Park Theatre for the AFWerxFusion event of the US Air Force.
In a Huffington Post article: Angelina stated "There is nothing I enjoy more than combining my love of making music along with my desire to try and do what I can to make this world a better place". An example of this are her high profile charitable performances including at the US Capitol in Washington DC, where she wowed members of Congress and other dignitaries at the charity event for Breast Cancer Research ,at the Muscular Dystrophy Gala in Manhattan with NFL and MLBA superstar athletes as attendees and most recently at the online Global Citizen event to step up the global fight against Covid19. Prior to that she frequently performed throughout Barcelona, Spain, and Greece, as a teen, where she was living prior to coming to the US.
Angelina's new POP single "Private Paradise" is currently considered for several GRAMMY® categories and her Music Video ,which she co-directed and self produced, has earned several awards and nominations at film festivals such as Venice shorts, Golden Sparrow International Film Festival, Rome Music Awards, New York International Film Awards, Los Angeles Lift-Off Film Festival, Las Vegas Screenwriting Film Fest and more.
"Private Paradise" single is produced by Multi Grammy Winning Producer with over 160 Platinum Records, Robert Cutarella,  who says "Angelina is the real deal, she has a true gift that the world should be aware of. She is powerful, emotive, playful and direct! She is a pleasure to work with and is bound to turn heads when you hear her for the first time. You will become an instant fan of Angelina's and find yourself waiting for new music she will be recording"
Her previous pop singles include  "Down For U" , "The Old Us" and  "All we Need" all  of which received rave reviews, as did her French language single "Nouvelle Journee"and her Spanish language singles " No Pienses en Nada" which was her most recent  release,  and "Amor " which was at the top of many Latin record pool charts including US National Latin Dance Charts #2 on DJ TIMES .
Angelina is also an accomplished dancer, obtaining her graceful movements and passionate Latin moves from years of formal training in Ballroom & Latin dance.   Many music industry veterans, who have had the opportunity to see her perform have been nothing short of awe struck, such as the legendary Ivan Mogull, who was in the business for over 60 years producing and publishing many greats, including  Nat King Cole, Nina Simone, Vic Damone , Neil Diamond  & Natalie Cole as well as Julio Iglesias, who he is credited with discovering, just to name a handful.  Ivan Mogull after seeing her perform for the first time in Manhattan stated that " Angelina is not only very talented and beautiful but a wonderful performer, take it from me her Star will shine very bright" He became an instant fan and saw her perform a number thereafter.
Angelina's manager , Paul Insinna, a well-respected entertainment attorney/manager who has been in the music business for over 30 years. says  " Angelina is not only an amazing vocalist and performer, she is also a multi-genre and multi lingual songwriter. In a time where a well-crafted song has almost seemed to become a lost art, her poetic lyrics filled with imagery and metaphors, together with her carefully crafted catchy hooks and melodies and her understanding and appreciation for the song structure and songwriting of past greats, while still being contemporary in today's pop music scene, is nothing short of genius. Her multi talents are astonishing and she is clearly poised to become a major global music star.